"Mutts lead singer Mike Maimone goes from zero to a hundred quicker than most.
He takes off on his rants. He removes his arms and starts hitting himself across the head with them. He questions that anyone around still gives a damn about him and his friends and loved ones, so the idea of just burning everything down and just taking in the love that damages pretty heavily anyway would be the best use of the time. He'll just throw that barroom piano over into the corner of the room and rowdily bang on it as the flames climb the walls and get into the ceiling, where they can really begin their engulfment.
Mutts music embraces the inner turmoil, the things that are striven for, the ways that we fall short, the ways we're let down, as well as the few things that spark us back onto the right track, even if those are the rare moments, the briefest of comebacks."
Sean Moeller, Daytrotter | Listen
Session Work Selections
Contact me let's make a record.
Company of Thieves
Tour Keyboardist
2009 – 2011, 2017
Lollapalooza Video:
Mutts
Black Me Out
Recorded & Mixed
Released on Artistic Integrity Records
Hemmingbirds, Bailiff, Los Colognes,
& More!
Live Keyboards
2008 – Present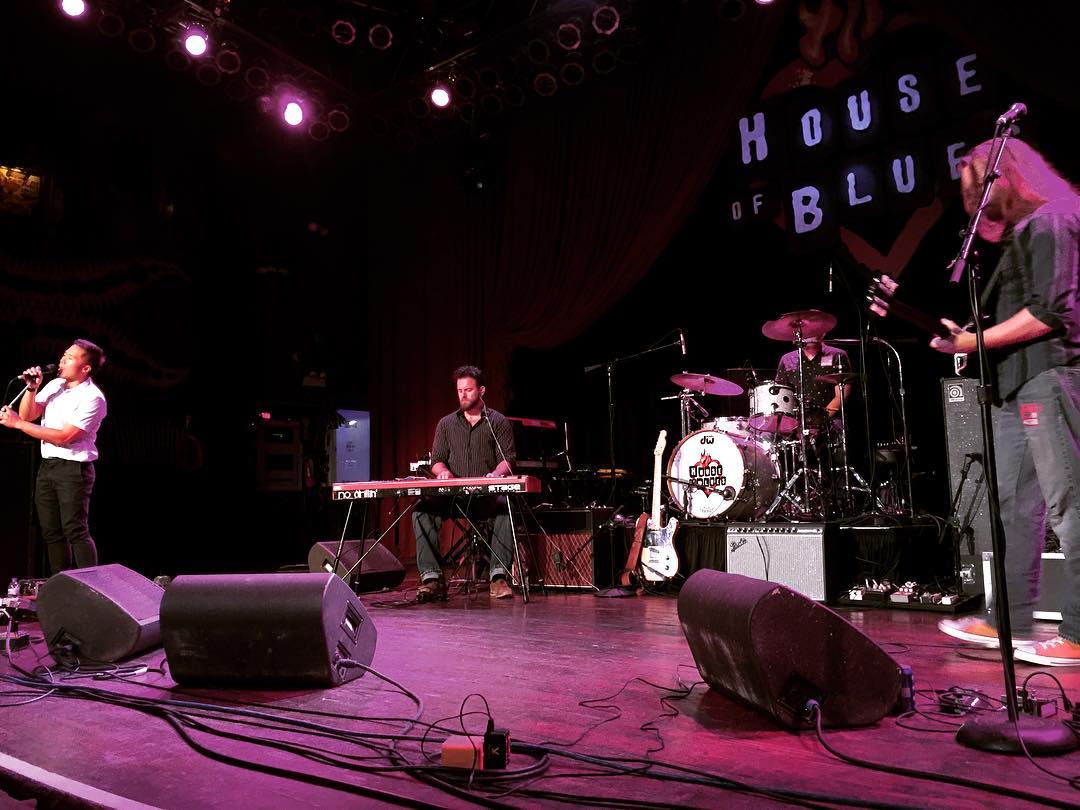 Company of Thieves
Running From A Gamble (Wind-Up)
Piano, B3 Organ, Mellotron, Wurlitzer
Produced by Rob Schnapf
Mutts frontman Mike Maimone "goes from zero to a hundred quicker than most," according to Daytrotter. Choose Chicago says, "He plays the piano with his feet. He swills whiskey between songs. He shouts and howls. He is an unstoppable music force." Vern Hester of the Windy City Times adds, "The man has the keyboard style of Fats Waller and Jerry Lee Lewis combined, and a vocal style that clearly recalls Tom Waits and Warren Zevon."
Maimone has averaged over 100 tour dates each year since 2007, primarily with his band Mutts and as a solo artist, as well as on keyboards for Company of Thieves and Los Colognes. He has opened for Imagine Dragons, Weezer, OK Go, Blues Traveler, and The Hold Steady among others, played Lollapalooza, Sasquatch, Riot Fest, Last Call with Carson Daly, and at notable venues across the country, from The Fillmore in San Francisco, to Emo's in Austin, to the Hammerstein Ballroom in New York.
Maimone released his solo debut LP Open Mic Nights, Empty Bottle Mornings in 2008. Going on to form Mutts with bassist Bob Buckstaff in 2009, Maimone has subsequently written and self-released 4 more albums and 4 EPs. In 2017 Mutts were named to WXRT's Local Anesthetic Best-of list for the second time. The most recent LP from Mutts, Fuel Yer Delusion vol. 4, is their fourth consecutive album to chart on the CMJ Top 200. More Mutts music is on the way in 2018, as well as a follow-up solo release featuring his new brass band.
Mike Maimone endorses Lewitt microphones and Nord keyboards, performing at the latter's NAMM exhibition in 2018.